Posted by scarlsson at 10:00, September 14 2012.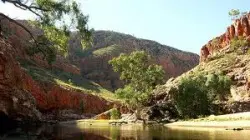 The settings for JEDDA were eclectically-chosen from many beautiful parts of the Northern Territory, from The Centre to Mataranka, the Roper River, Beswick, Kakadu and Marrakai. Two key locations were Katherine Gorge and Ormiston Gorge, both extremely difficult to reach in the fifties, long before organised tourism. The homestead used for exterior shots was Coolibah Station, near Victoria River, with interiors replicated at Avondale Studios, Sydney. Crocodile scenes in Jedda were filmed on the Roper River near Mataranka. Rosalie Kunoth from Alice Springs (Ngarla Kunoth on screen) played Jedda and Bobbie Wilson from Darwin (Robert Tudawali) was cast as the charismatic Marbuk. Sydneysider, Paul Clarke (Paul Reynell on screen) played the part-Aboriginal head stockman, Joe.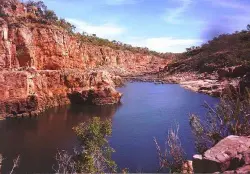 The Territorian identity, Bill Harney, acted as guide and interpreter for the Chauvels and their crew, and indigenous people who appeared in the film came from local communities, plus some tribal men from Arnhem Land. Making the film was a constant battle with heat, dust, crocodiles and isolation.
Excerpt from biography:
"The Jedda story was born around a campfire, by a waterhole called Kundulla. We had bivouacked near the Mainoru River on the southern edge of Arnhem Land, where the receding flood rains of the 'wet' leave numerous waterholes – lovely, secuded places adorned by red waterlilies and noisy with bird life. Around our campfire at night, by the light of kerosene lanterns, Charles and Elsa began to meld some of the stories they had gathered into the skeleton of a script. It was 1950, and we had spent the dry season trekking through Western Queensland, the Northern Territory and the eastern part of the Kimberley, on an adventurous five-month search for key locations, testing colour film and listening to peoples' stories. There were plenty of good Territorian yarns, but every now and then a 'real' story, telling of the drama and stark reality of lives in isolated, lonely places."