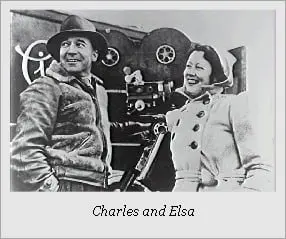 Charles Chauvel made Australian feature films from 1926-1959 – a period that encompassed silent film, the advent of sound, colour and eventually television documentary.
Charles was born in Warwick, Queensland, grew up on his family's dairy farm in the Fassifern Valley and after school days went to Sydney to study Art. Instead, he met a sporting idol, Snowy Baker, who was making silent Australian 'westerns'. Fascinated by the new medium, he persuaded Snowy to give him a job. He began as a stable hand, grooming the horses and driving the Cobb & Co. coach to Parramatta for outdoor location shots. He took bit parts in the movies, then went to California in 1922. In the Hollywood studios, he learned all he could about silent film making, then returned to Australia and made his first film in 1926."The Moth of Moonbi"  was based on a novel "The Wild Moth" by Mabel Forrest and filmed in country familiar to Chauvel, in the Fassifern Valley and McPherson ranges.
Charles' second film "Greenhide", also an Australian-style western, starred Elsie Sylvaney, a young stage actress from South Africa. At the end of the production, Elsie and the Producer were engaged and married in Sydney a year later. It was the beginning of a dynamic career together. Chauvel was both producer and director, wrote his own scripts and handled casting and a great deal of the publicity. Elsie changed her Christian name to Elsa and handled make-up and continuity in the early films, later co-writing the scripts.
Their first sound film "In the Wake of the Bounty" gave Errol Flynn his first screen role, as Fletcher Christian of the Bounty, and was filmed on Tahiti and the remote island of Pitcairn. Chauvel's blockbuster film "Forty Thousand Horsemen", depicting the exploits of the Australian Light Horse in WW1, was one of his best remembered. He launched several stars over the years – Chips Rafferty, Peter Finch and Michael Pate – and in 1955 made  Australia's first feature film in colour, "Jedda". It also created a 'first' by giving indigenous people the two starring roles.
The Chauvels made nine feature films, five wartime documentaries for the Australian Government and lastly an outback travel documentary series for the BBC. Charles died in Sydney of a sudden heart attack in 1959, aged 62. Elsa died in Toowoomba, Queensland, in 1983. The Chauvel Collection of films, photographs and documentation is held at the National Film & Sound Archive, Canberra, with auxiliary collections at the Mitchell Library, Sydney, the John Oxley ref. library, Brisbane (State Library of Qld.) and various state archives.
Australian Screen Online: https://aso.gov.au/people/Charles_Chauvel/portrait/